---
Israel's Memorial Day (Yom Hazikaron) will be observed this year on April 18, 2018. We invite you to join efforts in remembering every one of Israel's 23,550 fallen defenders!



News Article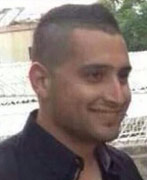 Policeman hurt in Jerusalem synagogue attack succumbs to wounds
Master Sergeant Zidan Nahad Seif, 30
Nov 18, 2014 - Master Sergeant Zidan Nahad Seif, 30, of Yanuh-Jat, who was critically wounded while attempting to stop the terrorist attack in a Jerusalem synagogue, succumbed to his wounds overnight, bringing the death toll to five.
Druze police officer Zidan Seif joined the Israel Police in April 2011 and served as a traffic control inspector at the Jerusalem Police Department. He was one of the first two policemen to arrive at the scene and was shot in the head during a gunfight with the two Palestinian assailants who entered the synagogue and attacked worshippers. He was posthumously promoted to First Sergeant. Despite the doctors' efforts to save him, the critically wounded police officer succumbed to his wounds.
Druze community leaders and residents of Seif's village of Yanuh-Jat in the Galilee praised him as a hero. "We are proud of our sons who act fearlessly on the front against terrorist attacks," said Muefek Tarif, a spiritual leader of the Druze community.
Master Sergeant will be buried in his home village of Yanuh-Jat. He is survived by his wife and infant daughter, parents and five siblings.