---
Israel's Memorial Day (Yom Hazikaron) will be observed this year on April 18, 2018. We invite you to join efforts in remembering every one of Israel's 23,550 fallen defenders!



News Article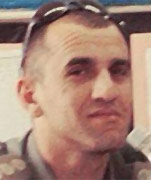 Chief inspector Jidan Assad, 38, killed in Hamas Jerusalem Car Terror Attack
Five seriously wounded after incident in capital near Old City; Hamas terrorist shot dead by police
Nov 5, 2014 - Chief Inspector Jidan Assad, a 38-year-old Border Patrol officer from Beit Jann, was killed and 14 people were wounded when a Palestinian terrorist used his car to deliberately drive into a crowd of Israelis near a light-rail train station in Jerusalem.
Chief Inspector Assad, who lived in the Druze village of Beit Jann in northern Israel, served with the Border Police in Jerusalem. He was struck and killed by the terrorist's vehicle. He was a father to a two-year-old boy and his wife is five months pregnant with their second son.
Chief Inspector Assad served in the Border Police in Jerusalem since 2002, after completing his IDF service as a combat officer.
Assad's father said, "All my sons serve in the security forces; the Border Police was in his blood and soul. He loved the service and he loved Jerusalem." He called for agreements that would prevent more fatalities, "be they Jews, Arabs or Druze."
Chief Inspector Jidan Assad was buried in the military cemetery in Beit Jann. He is survived by his wife, Dareen, and his two-year-old son, Amir, as well as his parents and four siblings.